A nearly 30 year leader in Los Angeles Aerial Photography has refreshed and expanded their website. Long a respected Los Angeles Aerial Photographer providing aerial photography services to the real estate, yachting, shipping, golf and news media, now new sections of the site highlight recent work and services offered for litigation aerial photography, landmarks and insurance.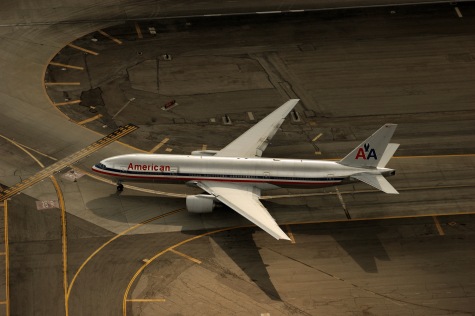 Los Angeles LAX (Los Angeles International Airport) aerial photography of an American Airlines Boeing B-777 airliner.
One area the photographer is especially well known for is aerial photography of LAX or Los Angeles International Airport. No easy feat in the best of times, let alone post-911, thanks to being a licensed pilot, safety-focused and a meticulous planner, the
Los Angeles Aerial Photographer
has an excellent track record of obtaining written permission to carry out client-driven aerial photography missions near or over LAX.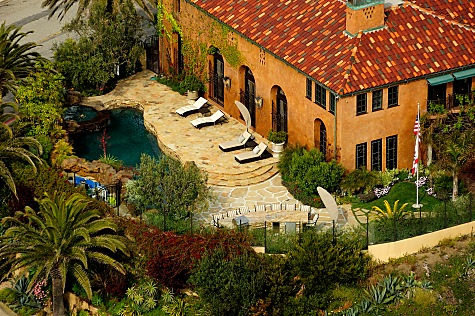 Los Angeles real estate aerial photography (photo above) produced for listing in Distinctive Homes.
A recent Los Angeles Real Estate Aerial Photography project appeared in the respected luxury broker publication, Distinctive Homes.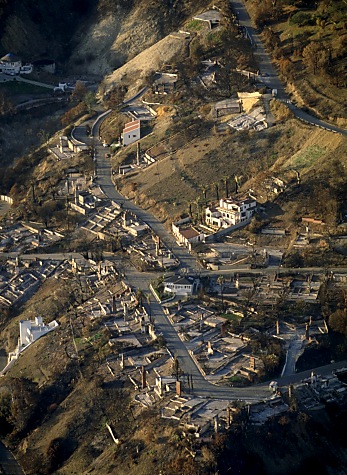 Los Angeles litigation aerial photography of luxury homes burned to their foundations by Malibu wildfire.
It should also come as no surprise with the recent earthquakes in Chile, Haiti and Mexico (just south of the border with San Diego), interest has grown in his Los Angeles Insurance Aerial Photography on such topics as the Northridge earthquake damage, Malibu Wildfires, mudslides, etc. He also works with lawyers providing aerial evidence for litigation.
Los Angeles aerial photography of golfers on a Golf Course.
Aerial photography is especially well suited to promotion of golfing and golf courses. Beautiful fairways, new landscaping and lush putting greens come to life when the aerial photographer flies over the client's property at just the right time of day.
Labels: aerial photography, distinctive homes, golf, insurance, landmark, lax, litigation, Los Angeles, real estate